Since a change in regulations the implementation of the Personalised Transport Reforms, our team at Brisbane Mobile Roadworthy have established themselves as an Approved Inspection Station (AIS). This regulation now required that light vehicles, such as limousines, taxis and Uber services, will need to be inspected every 12 months to gain a Certificate of Inspection (COI). What this means for you is that instead of having to visit the Department of Transport and Main Roads (TMR), you can call us, and we'll be on our way to you in no time. We are a hassle-free mobile CL inspection service, operating through all reaches of Brisbane and surrounds, coming straight to your home or office when needed.
Vehicles that fall under the CL Inspection Type
As an Approved Inspection Station, our team at Brisbane Mobile Roadworthy can perform a CL inspection on light vehicles (4.5t or less) with a registered purpose of use including:
Booked hire
Booked hire/rental
Taxi
Limousine
Special purpose limousine
Light vehicles ineligible for inspection at an Approved Inspection Station include commercial minibuses, registered school service vehicles and tourist and transfer vehicles. These vehicle types will continue to be issues their Certificate of Inspection by the Department of Transport and Main Roads.
If you have an unregistered vehicle that you wish to begin using for any of the purposes stated above, you may visit an Approved Inspection Station where the examiner will confirm your intended purpose to ensure it is eligible.
CL Inspection Inclusions
Brisbane Mobile Roadworthy specialise in helping keep Australian's safe on the road by providing affordable and reliable pre-purchase car inspections. From an engine check all the way through to steering and suspension, our comprehensive vehicle inspection service covers everything! Check out our summarised example below:
| | | |
| --- | --- | --- |
| Interior | Engine | Steering, Brakes & Suspension |
| Window Operation | Fluids | Wheel Bearings |
| Horn | Hoses & Joints | Steering Arm |
| Air Conditioner | Drive Belts & Pulleys | Rims & Tyres |
| Demisters | Battery & Connections | Handbrake |
| Seat Belts & Runners | Wiring | Brake Booster |
| Radio Controls | Ignition System | Master Cylinder |
| Washers & Wipers | Fuel System | Slave Cylinder |
| Door Locks | Emission Controls | Brake Pads & Rotors |
| Lights | Cooling System | Drum Brakes |
| Gauges | Seals & Gaskets | Springs & Shock Absorbers |
| Exterior | Under Body & Drive Line | Road Test |
| Rust | Exhaust | Odometer |
| Trim | Differential | Speedometer |
| Paint | Chassis | Steering Wheel Alignment |
| Panels | Drive Shafts | Vibrations & Noises |
| Mirrors | Tail Shaft | Clutch Operation |
| Body Repairs | Mounts & Bushes | Brake Operation |
| Bonnet & Boot | Gearbox | Performance |
| Convertible | Leaks & Fluids | Electrical Systems |
Please Note: This is a general overview and does not reflect completely all of the services we provide. Our full-service reports are much more detailed and will be made available to you as soon as possible after the inspection.
For a full mechanical diagnosis on the wear and tear of your potential new vehicle, contact Brisbane Mobile Roadworthy today!
There's many requirements you need to meet to become a Brisbane Uber Driver, with the most important aspect being the safety of your vehicles. Besides Uber's own standards, including current CTP insurance, a maximum age limit, seat and door requirement, your vehicle must meet a certain working and aesthetic condition. Free from cosmetic damage and commercial branding, your car must pass a CL Inspection and hold a Certificate of Inspection.
Valid for 12 months, the mechanic performing the CL Inspection will check the car meets all the safety standards required for its purpose of use. The mechanic will advise you of any issues that need to be rectified to pass the CL Inspection and obtain your Certificate of Inspection. When you obtain the COI the mechanic will submit a copy of the certificate to Uber on your behalf or you can upload directly via Uber's website.
To prepare you for your inspection, the most common things to look for are the condition of you tyres, testing all lights are working including indicators, brake and reverse lights as well as ensuring the exterior body is in good condition.
Becoming an AIS to perform CL Inspections
If you're looking to get your Certificate of Inspection for your CL vehicle, you need to ensure you're visiting a registered Approved Inspection Station. To be granted the ability to perform CL Inspections, a business must:
Be enrolled in and currently using the Inspection Certificate Online (ICO) system
Be approved for Light Vehicle Inspections
Have brake testing equipment that is able to produce the required brake test results which records the date, time and GPS location of where the test was performed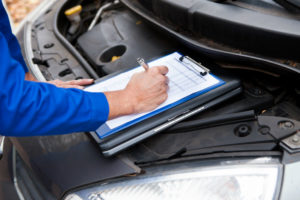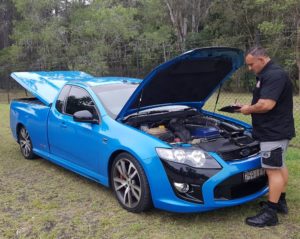 The CL Inspection
Just like any other vehicle inspection, our duty when performing a CL Inspection is to ensure the reliability and safety of your car with additional checks carried out depending on the intended purpose of your light vehicle. With over 25 years of dedicated experience to the trade, our team have the know-how to provide the best in CL inspections. Including over 85 different checks, CL Inspections are carried out by Approved Inspection Stations or the Department of Transport to decipher the quality, safety and performance of a vehicle. It is vital that your vehicle pass this inspection because without it, your vehicle will be deemed unfit to carry passengers. Your CL Certificate of Inspection is issued after a vehicle passes a safety inspection. If the vehicle fails the inspection, you have 14 days to rectify any issues and to call us back to schedule a re-inspection. Inspecting all makes and models, our comprehensive reports will break down every aspect of the vehicle's condition – and don't worry, if you're not mechanically-minded, our staff will provide personal feedback in terms that will help you understand the state of the vehicle. This will help you to understand why your car may have failed to CL Inspection and allows you the opportunity to rectify it and try again
Contact us
At Brisbane Mobile Roadworthy, we have over 25 years experience in the industry and have been performing Brisbane CL Inspections since they were first available for Approved Inspection Stations to carry out. If you have any further questions or are looking for some general advice, we're more than happy to help! As a mobile service, we come to you! Contact us now on 0412 245 672 to book your CL Inspection to get your Certificate of Inspection in Brisbane.
Or if you do not know what your car needs, simply fill out the form below!
Book an appointment today