While the prime muscle car era spanned from 1964 – 1973, Australia is seeing a return of the mid-sized, 2-door cars with powerful engines, and we completely understand why! They're compact but fast, stylish and loud, and sometimes they give you a good project to work on.
To ensure you get your money's worth, Brisbane Mobile Roadworthy specialise in muscle car inspections across South East Queensland. Our non-invasive muscle car inspections examine the mechanicals, paint and panel condition, along with structural damage and any signs of rust. We will also look into the cosmetics of the interior of the car before providing you with a comprehensive report that includes photos.
Our inspectors are more than happy for you to attend the inspections and ask questions throughout the process where will we provide direct and personal feedback to ensure you understand what you're looking at.
Muscle Car Inspections Breakdown
Buying an older muscle can be tricky business for just about anyone. We know that some people get excited to see what may be their dream car up for sale and are more than happy to just hand over their money without doing due diligence on the vehicle. Other times, you may not even know what to look for, and with Brisbane Mobile Roadworthy, that's all okay because that's what we're here for! In our comprehensive muscle car inspections, we'll cover everything from roof to wheels, bonnet to boot. Some of the things you can expect us to inspect include:
Exterior Walkaround
The first step of our process is to a 'walkaround'. This is a basic assessment of the exterior aesthetics where we look for anything such as misaligned panels, scratches in the paintwork and any other bumps, dents, bubbles or sags. We'll also take note of what's original and what's not and the condition of the tyres. This exterior walkaround gives us a basic understanding of how the vehicle has been treated and offers a good indication on what the closer inspection will reveal.
Rust Inspection
Once we've done our walkaround, we start getting up close and personal with the vehicle. During our rust inspection, we'll take note of any rust visible on the car, but we'll let you know which ones are the danger spots (as rust is expected on most cars to a certain extent). Our repair experts know where to look for problem spots such as under doors, inside guards and in the floor. It's important to note that any sign of bubbling paint is almost a guarantee of rust underneath, however, we will assess the vehicle and the extent of the rust damage if applicable and let you know whether it's repairable or time to find another project.
Panel Gaps
Our team, yet again getting up close and personal, will inspect the gaps between the hood and the guards, the boot and the door alignments to ensure everything opens and shuts as it should. This may seem simple, but ensuring that your vehicle panels are aligned is one of the best things we can do for you because if it turns out the chassis isn't straight, your 'weekend project' has turned into a money pit.
The Engine
Taking a peek under the hood is perhaps one of the most vital aspects when it comes to muscle car inspections. When assessing the motor, we will check all the fluids, look for any signs of disrepair and listen to the engine running.
Interior
The interior is an often overlooked aspect to car inspections due to it being more cosmetic than mechanical. However, it can all add up pretty quick. From the vehicle's vinyl, plastic and leather, the condition of seat frames and springs to the condition of the door cards and parcel shelf and the state of the carpet, there's so many seemingly insignificant aspects of the interior that can end up costing you thousands to repair or replace in the long run.
Test Run
We always encourage buyers to take a prospect vehicle for a test run before purchase. We are happy to do this for you as our experienced mechanics and vehicle inspectors know what to listen and look for. If you wish to be a part of this test drive, please let us know.
Muscle Car Inspection Benefits
One of they key benefits of muscle car inspections is ensuring that your hard earned cash is not wasted on a lemon. Additionally, muscle car inspections are useful for:
Saving Money
If we diagnose issues that don't pose an immediate threat to your safety, you can use these findings as leverage to save money when negotiating the sale. It can also save you thousands in the long run if we uncover hidden defects or the car is no longer covered by a manufacturer's warranty.
Identifying Pain Points
Mechanical problems are not always obviously visible, especially not to an untrained eye. By hiring a qualified motor mechanic, you get an experts unbiased opinion on the quality, safety and performance of the vehicle.
Sell For More
By having a pre-purchase car inspection report under your wing when selling a vehicle can be a tremendously effective sales tool. By having a qualified mechanic mark your vehicle as well looked after and in good working condition, you have leverage and a strong position to negotiate a higher value for your car.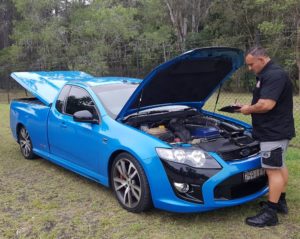 At Brisbane Mobile Roadworthy we have over 25 years experience, specialising in European vehicles, muscle cars plus all other makes and models of vehicles including motorcycles, boats and caravans.
If you have any further questions or are looking for some general advice (such as how much fuel your new muscle car might guzzle when it's restored or how hard it might be to find parts), we're more than happy to help!
As a mobile service, we come to you! Contact us now on 0412 245 672 to book your muscle car inspection.
Or if you do not know what your car needs, simply fill out the form below!
Book an appointment today